Sing!
Mladen Stilinović at the Ludwig Museum
Currently on view at the Ludwig Museum is Mladen Stilinović's retrospective entitled Sing!
| | |
| --- | --- |
| Ivey Ford | 2011-06-20 10:32 |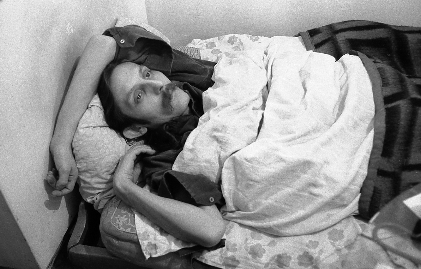 Currently on view at the Ludwig Museum is Mladen Stilinović's retrospective entitled Sing! To date, the retrospective is Stilinović's largest and most comprehensive exhibition in Hungary as well as the surrounding region. The retrospective presents Stilinović's varied oeuvre of photographs, artist's books, collages, paintings, hand painted signs, sculpture, film and installation from the last forty years. Like his diverse choice of media, his themes range from the language of politics, the politics of language, the role of art in society and the exploration of semiotics. Conceptually driven, Stilinović's approach is clever and witty in the Duchampian fashion but cynical to a fault with regard to the society that has and continues to surround him. (Photo: Artist at Work, 1978)
Born in Belgrade in 1947 and moved to Zagreb in the 1960s, his work responds to social, political and economic climate of the times. However, despite the developments that occurred since the 1970s, his work still retains pertinence. For example, he states in his text "Praise of Laziness" from 1998, "As an artist, I learned from both East (socialism) and West (capitalism). Of course, now when the borders and political systems have changed, such an experience will be no longer possible. But what I have learned from that dialogue, stays with me."
U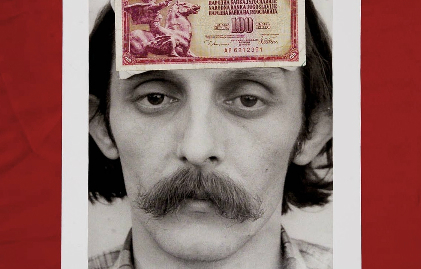 pon entering, visitors are greeted with two of Stilinović's most signature works: Sing! (1980) and An Artist who cannot speak English (1992). Sing!, the work which the retrospective derives its name, is a black and white photograph of the artist with 100 dinar posted to his forehead. As the caption states, the work refers to the local practice of patrons placing money on musicians' foreheads to pay them to play or sing. The work fosters numerous discussions about the role of the artist in society, the monetary value of one's labor and the exchange of money to encourage the artist to "sing" with accord to the paying party. (Photo: Sing!, 1980)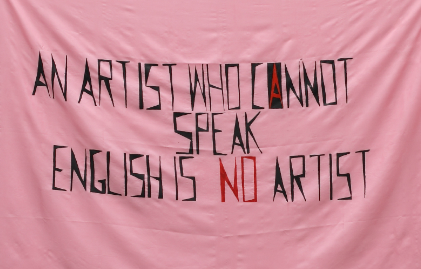 On the opposing wall to Sing! is An Artist who cannot speak English. On a handwritten poster that is 140 x 430 cm, Stilinović has written "AN ARTIST WHO CANNOT SPEAK ENGLISH IS NO ARTIST." The text is black except for the word "NO" which is written in eye-catching red. As in his Dictionary- Pain (2000-2003), which was shown in the 50th Venice Biennale in 2003, the work directly references the problematic reality that the English language is controlling the state of the arts on both an individual and global level.
Throughout the retrospective, Stilinović's work appropriates a number of strategies implemented by the very regimes under scrutiny. By doing so, his works turn these strategies of control back on themselves. His strategies include: the symbols associated with socialism, repetition, multiples and manipulated speech. For example, there is a wall in the retrospective which has a number of hand painted signs on cardboard that reiterate succinct sayings such as 'Work is Disease" by Karl Marx. Another example of his use of multiples is a work entitled Nobody Wants to See (2009). The caption states, "The three richest men in the world own as much as six hundred million of the poorest people." On the left there is a sheet of paper with a small "3" written in the middle. On the right, there are four large piles of paper of the same size with as many "3s" that will fill the page. The visual comparison of "3s" is more powerful through his use of multiples, a strategy used in politics and advertising.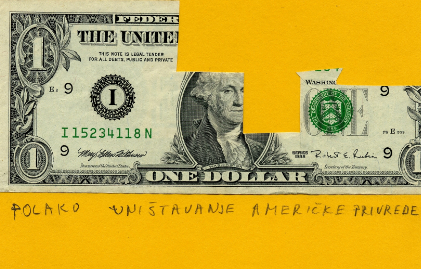 A reoccurring symbol in Stilinović's work is the use of money. He uses U.S. and Serbian marks but with similar ends– to suggest to viewers to step back and look at the power of money objectively, to see money as a symbol with referents. In his Installation with Money (1978-2006), there are a number of works which involve the cutting, wrapping and pasting of money. For example, he wraps bread in paper money to suggest the importance of this paper substance to acquire actual sustenance as well as replace numerical denotation on bills with endless "0s". By doing so, money is objectively only paper and yet it becomes a symbol for the failures of political systems. (Photo: Slow destruction of American economy)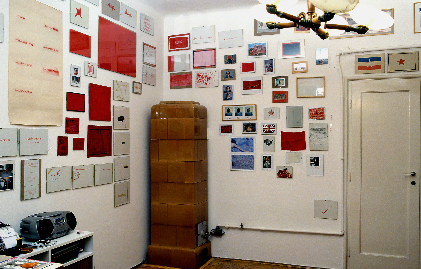 Another symbolic connotation explored in Stilinović's work is his choice of the color red. Red is an emotionally intense color that evokes passion, love and power, but it can also symbolize threat as it refers to spilled blood as well. In works such as the Exploitation of the Dead series (1984-1990) or Red-Pink (1970s), Stilinović's repeatedly uses red juxtaposed to the symbols and language of socialism in order to expose this contradiction of meaning. This conflict is further investigated in his works where he uses his own blood to write messages or an image of a blood covered Pope. (Photo: Red-Pink, 1973-1981)
Stilinović's work operates on two main fronts: firstly to investigate the systems of control through language and money and secondly to challenge the institution of art. His early works refers to the power and semiotics of language whether it is spoken, written or represented through symbols. In both systems of capitalism and socialism, he arrives at the same end—to expose and critique the strategies of control in operation. At the same time, his work challenges the institution of art as we know it. Beginning with his founding of the Group of Six Authors from 1975-1979, his work seeks to move art away from an object-based obsession as Lucy Lippard called the "dematerialization of the art object" in her book Six Years: The Dematerialization of the Art Object from 1973. This movement away from the object is evident in Stilinović's choice of materials rather it is in his hand painted signage, makeshift artist's books or photo documentary of himself but also in his institutional and social critique that encourages visitor involvement with certain works, a direct link to the world outside the museum and the subversive breakdown of tautologies.
The retrospective is comprehensive, well organized and informative. Stilinović's work deals with challenging issues but his approach allows something for everyone.
Sing! - Mladen Stilinović Retrospective
April 22, 2011. - July 03, 2011
Curator: Branka Stipančić
Coordinator: Katalin Székely
Website: www.ludwigmuseum.hu
There is a comprehensive catalogue accompanying the exhibition with essays by Branka Stipančić, Georg Schöllhammer, Ellen Blumenstein, Ana Janevski et al. It is written in English and Croatian and cost 2600 Ft. 
The exhibition is supported by: Embassy of the Republic of Croatia in Budapest / Ministry of Culture of the Republic of Croatia